Whenever you walk out the door, there is an essential collection of items you want on you at all times.
You know the basics: wallet, purse, pen, phone, watch, keys and sunglasses.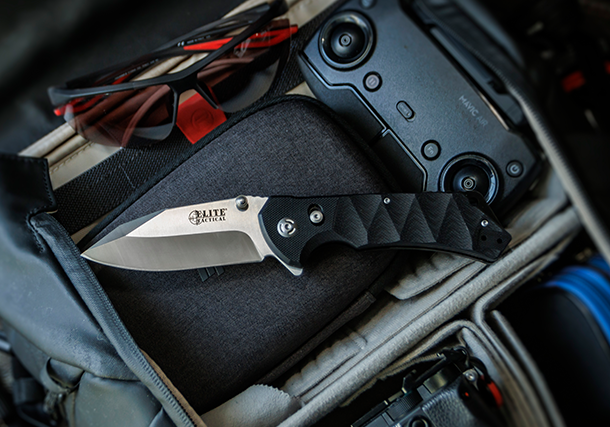 These items are referred to as "everyday carry" items or EDC, and it's all the rage on the internet these days. But there is one item that separates itself from the rest of the pack — the EDC knife.
The advantages and perks of carrying an everyday carry blade on you at all times is often overlooked when deciding what stays and what goes out the door every morning… On the other hand, when you're out in public or socializing with friends and someone pulls out a trendy looking tactical blade to cut a cord, slice open a box, pop open a beer, or — in the unfortunate event you're attacked — be able to defend or diffuse a potentially dangerous situation. EDC knives are also the hero in emergency situations (cutting seatbelts or rope, shattering glass, wedging open a door, etc.). Whether you're at home, at work, camping, driving or having a night on the town, we here at Sharper Edges encourage you to equip yourself with some sort of EDC edge. Plus, we promise it'll make you not only feel cooler, but more confident and secure.
Clip it on your belt, hang it around your neck, hide it in your boot or conceal it in your purse, everyday carry knives come in all shapes and sizes. From pocket knives, neck knives and pen knives to karambits, tactical knives and boot knives, they are lightweight, compact, and small enough to conveniently carry around town, but will enable you to handle everyday tasks, unexpected circumstances or dire situations. The ultimate reason for having an EDC knife is for utility and preparedness... It is a multi-purpose, indispensable tool; making it must have for anyone who wants to pack a punch when they get in a fix.
However, the EDC knife is not just for function and practicality. It is also a statement piece that can complement your other everyday carry items and accessories. Therefore, cosmetics and style are a crucial aspect when it comes to choosing the best EDC knife. Just like clothes, cars and jewelry or hairstyles, your EDC edge is an expression of who you are and how people perceive you.
*One thing to keep in-mind. Depending on the local laws of where you live, certain types of knives may be restricted, so be aware of those before deciding what kind of EDC knife you should carry...
Which everyday carry blade is right for you? Check out our entire EDC collection of quality knives that are build to last, safe to use, and legal to carry.
Quick Shop
---